The Ultimate Peloton Hack – The Experience Without The Price Tag
I almost feel bad about posting this because I truly LOVE Peloton but $2000 for a spin bike and another $40 a month for a subscription necessary to use the bike seems absurd to me.  Here is my story about how I came to make the best ever Peloton hack and get all the benefits of the bike without the costly expense.
First, let me tell you that I have been an avid runner for years.  A few years ago however, I tore my meniscus in my right knee which put a sudden halt to my all- time love.  Let me clarify that I tore it doing yoga sculpt not running which was even more frustrating.
I immediately found other ways to get my cardio in which included my elliptical and my stationary bike – both which bored me to death but got the job done.  About 6 months after my injury I went to visit my son and his family and his wife took me to a spin class.  I immediately fell in love with the energy and loved the spin bike so much more than my regular stationary one.  Standing and pedaling felt a lot more like running to me and didn't hurt my knee at all.  After taking a few more classes I decided to invest in a bike and began doing my research.
I was shocked to find out that the Peloton cost $2000 but loved the idea of the live and pre-recorded classes.  I was lucky enough to come across some reviews where people were complaining about the comfort of the seat or the fact that the APP cost so much each month.  As much as I loved the idea of it, I couldn't justify the cost.  Taking classes at a local place was also an option but they were also very expensive ranging from $20-35 a class and you were stuck with their schedule and choice of music.
I started to research spin bikes and APPs to go along with the bikes and found that I could get a top-notch spin bike for a fraction of the cost and not be locked into the $40 a month for the system.  So here is my hack:
STEP 1:  Choose a Bike
I choose the Sunny Health and Fitness Magnetic Belt Drive because it had a spot to hold my iPad for the APP, was a magnetic, 40-lb. fly wheel requiring no maintenance (big plus for me) and the seat was rated high for comfort (another big plus for me).  You can definitely go with a less expensive bike and do the exact same hack but for a little bit more knowing this one had high ratings and like I said was maintenance free it was the one I decided to buy and I love it.  Let me also add that reading reviews and going through all the pros and cons of several different bikes lead me to this one every time for its many features that make it sturdy, reliable, comfortable and easy to adjust among the obvious things like have the iPad holder and magnetic 40 lb. fly wheel.
Step 2:  Pedals
This particular bike only came with the slip in pedals but I found out that they were extremely easy to switch out.  I choose Wellgo E229 Shimano SPD Compatible 9/16″ Thread Spin Bike Pedals because they allow me to flip the pedal over to wear regular shoes if I wanted or the spin shoes.  You could get another type of pedal but just make sure the thread size is 9/16th and it will fit with this bike.  This literally took me like 3 minutes to change out the pedals and I was ready to ride.
Step 3:  Cadence Sensor

I needed a way to match the cadence to the recommended speed of the instructor.  I found a Wahoo Cadence Sensor that works with an APP that connects with bluetooth on your phone.  You connect it to your pedal with attachments that came in the pack.  This allows you to follow along with the instructor and since it connects to the Peloton APP you don't even have to have another device open.
Now, you won't be able to follow the exact tension instructions because this bike, like others, doesn't have numbers so when the Peloton instructor says raise your resistance to 55 and take your cadence to 80 for example, you will just be able to control cadence and adjust your level of difficulty as needed.  I don't find this to be an issue at all as I just get my speed up to the cadence they called for then I adjust my difficulty to where I can keep that cadence.
Step 4:  Assembly of Bike
The bike came in a heavy box and since my husband was at work I called a friend to help me move the bike down to my gym.  We took the pieces out of the box upstairs and moved them down rather than taking the whole box down (awkward and heavy).  My friend left me to the rest and I put it together by myself in about 30 minutes.  It was super easy to put together and if I had help it would have been even faster.  My husband came home and couldn't believe that I had put it together by myself but I was eager to get started and didn't want to wait.
  Step 5:  Finding the APP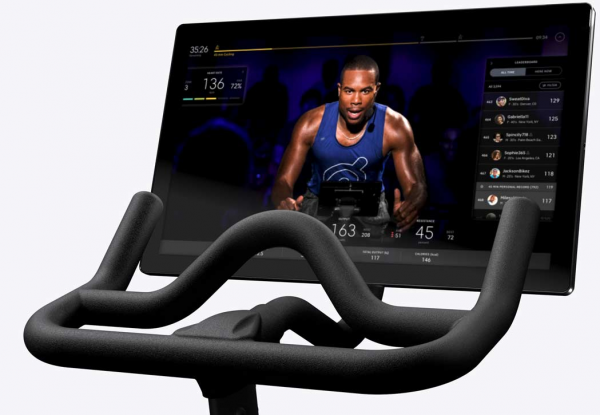 Finding an APP I liked was another problem though.  While I waited for my bike to arrive I tried out some APPS trying to keep it inexpensive.  I even considered doing videos on You Tube.  But when I saw the Peloton APP there was no going back!  Nothing, and I mean, nothing came close to comparing to the Peloton APP.  The APP is so inspiring and has changed my workouts from boring to amazing.  Do I miss running?  Of course I do but the APP has a running program that I do on the elliptical and pretend I'm running.  Just the inspiring music and instructors guiding me through this workout makes me feel like I'm running again (extra plus I didn't expect).
This was so amazingly simple and inexpensive and it was one of the best investments I've made in my gym.  For under $600 I got a really comfortable, no maintenance bike, with a super comfy seat, the doubled sided pedals, sturdy place to put my iPad and the cadence sensor and I also save $12 a month on the APP verses the required $40 a month subscription fee for Peloton bike owners.
Hope you get to experience these amazing workouts.  If you decide to do the hack I would love to hear from you and how you like it.
Are you looking to transform your health? Mary works with clients all over the country developing personalized nutrition and exercise plans for weight loss and health. If you're ready to get started on your journey to health and wellness contact her today!
Visit BodyDesigns Two Week Detox Plan or BodyDesignsbyMary for more information.